HIS 6990 Fan 4GB GDDR5 PCI-E DVI/4xMini DP

Référence
H699F4G4M
Code EAN
4895139005387
Refroidissement
Fan
GPU
6990
Fréquence GPU
830 MHz
Fréquence mémoire
5000 MHz
Capacité mémoire
4096 MB
Type de mémoire
GDDR5
Interface mémoire
256 bit
Interface
PCI Express x16 (PCI Express 2.1)
Dimensions de la carte
12.8 x 4.2 x 32 cm cm
Dimensions du la boite
37.8 x 9.45 x 15.25 cm cm
Availability
Disponibilité
Get Immersed with AMD Eyefinity Technology
Featuring 4GB of high-speed GDDR5 memory, the AMD Radeon™ HD 6990 is the definitive solution for ultra-high resolution gaming across up to six simultaneous displays.
Expand your favorite games across up to six displays with AMD Eyefinity technology for an incredibly expansive field of view.
See more of the battle than ever before with up to six simultaneous displays enabling an intense "wrap around" experience to put you right into the game.
Get the freedom and flexibility to upgrade. This modular solution enables you to add additional displays as you need them.
Get more done. Put your productivity into overdrive and let up to six displays put all the information you need right before your eyes.
Don't choose between play and work. Let up to six displays help you enjoy games, movies and the web at the same time.
Get Amazing EyeDefinition Graphics with Direct® 11 Technology
Accept nothing less than the best. With dual GPUs and 4GB of ultra-fast GDDR5 memory, the AMD Radeon™ HD 6990 enables flawless detail and unrivaled performance in the most demanding DirectX® 11 games.
Harnessing the incredible power of dual GPUs with full support for DirectX® 11 and scalable geometry processing, the AMD Radeon HD™ 6990 is simply the fastest graphics processor in the world.
With unrivaled frame rates and flawless graphics, the AMD Radeon™ HD 6990 is the definitive solution for uncompromising gamers.
Leave no performance behind. Take control of the AMD Radeon™ HD 6990 with AMD PowerTune technology, an exceptionally intelligent power management system designed to optimize GPU performance.
Maximum efficiency. Maximum performance. AMD PowerTune technology in the AMD Radeon™ HD 6990 puts exceptionally intelligent power management under your control.
Set the bar for beautifully smooth image quality with Enhanced Quality Anti-Aliasing (EQAA) on the AMD Radeon™ HD 6990.
With quad advanced programmable tessellation engines, the AMD Radeon™ HD6990 is engineered to deliver astonishing geometry processing performance.
Play your favorite games in full stereo 3D, and get incredibly rich and interactive gameplay with AMD HD3D technology.
Speed Up Applications and Enjoy Brilliant Video with AMD EyeSpeed Technology
Get more from your system than incredible gaming. AMD Accelerated Parallel Processing (APP) technology taps into the tremendous power of the AMD Radeon™ HD 6990 for stunningly fast applications and pristine video.
Unleash the most demanding applications with AMD Accelerated Parallel Processing (APP) technology. Do more, faster.
With world-class support for IEEE 754 double precision floating point ops, the AMD Radeon™ HD 6990 is equipped to dominate computationally intense workloads.
Perfect your online and Blu-ray video experiences with an unprecedented level of smooth visual quality with AMD EyeSpeed visual acceleration technology.
Experience Blu-ray 3D exactly as it was intended with AMD HD3D technology.
Take advantage of Dolby TrueHD and 3D HDTV support in the AMD Radeon™ HD 6990 to create that theatre-quality experience.
Put out Stunning Visual and Unrivaled Audio Experience with HD3D Technology
Stereo 3D display/glasses support
Stereo 3D gaming
Blu-ray™ 3D support
3rd Party stereo 3D middleware software support
Launching with AMD Radeon™ 6900 Series GPUs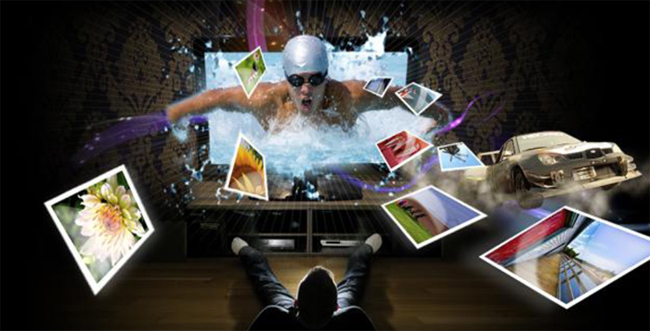 HD 6990 Features and Benefits
Features

Benefits

Microsoft® DirectX® 11 Support

Get unrivaled gaming performance and flawless image quality with stunning 3D visual effects, realistic lighting and lifelike imagery, driven by the incredible power of dual GPUs with full support for DirectX® 11 and scalable geometry processing technologies.

AMD Eyefinity Technology

Enjoy the ultimate immersive gaming experience withinnovative "surround sight" multi-display capabilities

AMD HD3D Technology

Experience high quality, full stereoscopic 3D viewing of:

Blu-ray 3D movies
Games
Video/Movies
Photos

AMD Advanced Parallel Processing technology

Accelerate the most demanding applications for improved performance

Advanced GDDR5 Memory Technology

Delivers more speed and higher bandwidth

AMD CrossFireX™ Technology

Increase your gaming performance with AMD CrossFireX™ Technology

4th Generation TeraScale Engine

Provides increased processing power and improved efficiency for the latest games and accelerated applications

40nm Process Technology

Provides enhanced processor performance while using less power and better transistor efficiency than previous generation technology

Accelerated Video Transcoding

Helps improve video transcoding performance

Display Flexibility

More flexibility with maximum connectivity for the latest display technologies

HDMI 1.4a Support

Helps ensure you get the full Blu-ray and PVR experience from your PC

Dolly®TrueHD and DTS-HD Master Audio Support

Get a fully immersive high-definition audio experience with the latest Blu-ray movies

AMD PowerPlay™ Technology

Power draw scales according to activity so when GPU activity is low, the power draw is minimal

AMD PowerTune technology

Maximum efficiency. Maximum performance. AMD PowerTune technology in the AMD Radeon™ HD 6990 puts exceptionally intelligent power management under your control

Enhanced Unified Video Decoder (UVD) 3

Watch the hottest Blu-ray movies, online video and other HD content beyond 1080p with low power and low noise with GPU acceleration and enhanced Unified Video Decoder (UVD) 3 features

Enhanced Internet Browser Applications

A fast and smooth browsing experience with enhanced imagerendering, response, and media playback
The Power of HIS
The Excalibur, once owned by the invincible King Arthur, denotes the leader's mighty kingship with its mystical power and fascinating beauty and brings him triumph battle after battle.
Now HIS raises this sword again for gamers.
The Legend reborn... Prepare to conquer the gaming world!
HIS PRODUCTS ADVANTAGE
HIS delivers Faster, Cooler, Quieter plus the best quality product!
Professional customer service and technical support
What's in the box
HIS Graphics Card
CrossFireXTM Bridge
Active Mini Display Port to Single-Link DVI dongle
Passive Mini Display Port to Single-Link DVI dongle
Mini Display Port to HDMI dongle
Mini Display Port to Display Port dongle
DVI-VGA Adapter
Install CD with Multilingual User Guide
Quick Installation Guide
HIS Power Up Label
| | |
| --- | --- |
| Model Name | HIS 6990 Fan 4GB GDDR5 PCI-E DVI/4xMini DP |
| Chipset | Radeon HD 6990 PCIe Series |
| ASIC | RadeonTM HD 6990 GPU |
| Manu. Process (Micron) | 40nm |
| Memory Size (MB) | 4096 |
| Memory Type | GDDR5 |
| Engine CLK (MHz) | 830Mhz |
| Memory CLK (Gbps) | 5Gbps |
| Memory Interface (bit) | 256 |
| Power Supply Requirement | 750 Watt or greater power |
| Max. Resolution | 2560*1600 (Single Display) |
| Bus Interface | PCI Express x16 |
| Mini Display Port | 4 |
| HDMI | No |
| DVI | Dual-link DVI-I |
| VGA | No |
HD 6990 System Requirement
PCI Express ® based PC is required with one X16 lane graphics slot with 2 slots space available on the motherboard
750 Watt or greater power supply with two 150W 8-pin PCI Express® power connectors recommended (1000W and four 8-pin connectors recommended for AMD CrossFireX TM technology in dual mode. 1200W recommended for optimal performance).
Certified power supplies are recommended. Refer to http://ati.amd.com/certifiedPSU for a list of Certified products
Minimum 1GB of system memory
Installation software requires CD-ROM drive or DVD –ROM drive, a keyboard, a mouse, and a display
DVD playback requires DVD drive and a DVD
Blu-ray™ playback requires Blu-ray drive and a Blu-ray disc
For an AMD CrossFireX™ system, a second AMD Radeon™ HD 6990 Graphics card, an AMD CrossFireX™ Ready motherboard and one AMD CrossFireX™ Bridge Interconnect cable is required
Use of 3 or more displays with AMD eyefinity technology requires a Display Port-capable panel or an AMD Eyefinity validated dongle. See http://www.amd.com.EyefinityDongles for a list of validated Display Port dongles.

July 28th, 2012 at 04:22 am
By Amigatek
The HIS Radeon 6990 HD3D is The Greatest GRaphics Card I have Ever Bought!!. It is The Fastest Graphics Card on the Planet!, when I had purchased it a few months ago and I can freely Play any PC 3D GFX Game Without Any Problems at All!!!...
I Love This Card and I will always keep it, it is so beautifully built with fantastic Quality and it Never Gives me any problems. Overclocking has been a breeze. Nothing Greater than having 2 x Cards in-One, its like I Have Crossfire in one Slot. It is, of course Two Graphics Cards in One, therefore it configures as 2 x 256 = 512bit and 2 x 2GB Ram = 4GB RAM. Doing Video work with this Card is effortlessly, Video Editing is Super Fast with this Card, whether its SD or HD Video Editing. I have never been happier with a GFX Card!! Thanks HIS and AMD, Genius Technology at Work.. :))
September 16th, 2011 at 03:19 pm
By Limited4
Excellent Graphics Card, I had 2 of these running in quadfire and i could play anygame on the highest settings smoothly without stuttering or problems. I played crysis 2 with the DX11 patch and the High resolution Texture packs at constant 60fps. definitely reccomend this for the gaming enthusiast.
April 26th, 2011 at 03:35 pm
By Verhooven
The Fastest Card on a PLANET !
Post your comment
Comments will be reviewed by the editors before being published, mainly to ensure that spam and irrelevant material are not published . Please feel free to comment!
We strongly encourage you to use your real name. E-mail addresses are required in case we need to follow up with you directly. We won't publish your e-mail address unless you request.






HIS has won over 1700 awards with AMD graphic solutions from major media worldwide.

" - Great overclocking
- Outstanding Performance
- 3 years warranty "
PCLab.pl "Power Award"

"This card is the top of what AMD can offer, a monster of performances." PC Jeux "88% Score"
CHIP Digital Magazine "Excellent Award"

"In the majority of the benchmarks we ran, the HIS Radeon HD 6990 took the top spot, with the GeForce GTX 590 trailing closely behind...If you've got the coin and understand the nature of the beast, the HIS Radeon HD 6990 is a powerful graphics card that offers top-notch performance." Hot Hardware. "Recommended Product"

"Performance wise, the card delivered and was easily on par with Nvidia's GTX590 alternative and its higher framebuffer gave it the edge at higher settings." Vortez "Silver Award"

"HIS Digital HD6990 performs exceptionally well. The HD6990 from HIS Digital clearly has bags of performance available to it as even the seriously strenuous games could be run at fearsome image quality settings and 5760x1080 resolution, but still give us playable frame-rates. That immense performance is enough to give the HIS Digital our OC3D Performance award." Overcloker3D. "Performance Award"
"The HIS ATI Radeon HD 6990 is big, brash and very-very powerful. It'll require a sizeable PC (both in terms of size and PSU), and you won't want it anywhere where operating noise is an issue...rich gamers will find it a big investment they can't resist."-PC Advisor "4-stars Product"

"the Radeon HD 6990 is shared by two DirectX graphics processors. A doubling of the power is indeed associated, but is a smooth display even at high resolutions and quality settings possible. This bought one with a high power consumption and volume."- PC Go "Very Good Product"


"HIS has done a fantastic job with the package by including a load of convertors that are going to make getting the card up and running straight away with any monitor an absolute breeze. As you would expect, the HIS HD 6990 4GB is a fast card and overall just a great card for people who demand power." - TweakTown "Best Performance"
"HIS delivers a very complete package with all kinds of VGA/DVI/HDMI/DP adapters to make sure you can connect this product to pretty much any monitor, even if you choose eyefinity. That was very nice to see.HIS Radeon HD 6990 is pretty extensive and the performance is phenomenal when that 2nd GPU kicks in and if you like to go really wild with multiple-monitors then this product is starting to make a whole lot of sense. Complete l33t and g33k stuff alright !" - Guru3D "Top Pick"


"HIS HD6990 in most games the scaling is extremely impressive, especially when we move to a four screen setup at 7680 resolution. Titles such as Crysis Warhead improved noticeably, meaning we could actually raise the image quality a little more if we wanted. If you have a single 30 inch screen, then one of these cards is more than enough. If you want some future proofing and plan on getting four or even five screens then two of these cards is actually a reasonable investment." -KitGuru "Must Have Award"


Retour