HIS HD 4670 IceQ Native HDMI 1GB (128bit) DDR3 AGP

Kod Produktu
H467Q1GHDAP
Kod EAN
4895139001952
Chłodzenie
IceQ
GPU
4670
Taktowanie Rdzenia
750 MHz
Taktowanie Pamięci
1746 MHz
Wielkość Pamięci
1024 MB
Typ Pamięci
DDR3
Szyna Danych Pamięci
128 bit
Typ Złącza
AGP 8X/ 4X
Rozmiar Karty
20x12.6x4.2cm cm
Waga Pudełka
0.4 kg
Availability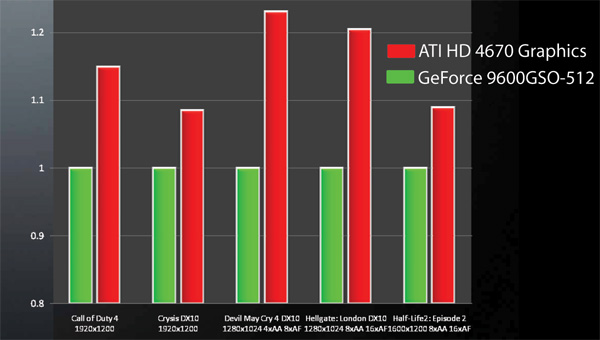 "HIS HD 4670 graphics beats GeForce 9600 GSO in high settings!" - Comparsion based on AMD internal testing
Product Advantage
HIS IceQ technology is endorsed as the most efficient cooling technology among the current mainstream graphic cards' series. HIS IceQ can actively draw the air inside your PC case to cool down the card, and blows amounts of hot air out of your case, dramatically decreasing the GPU temperature together with your PC components. HIS IceQ is also UV sensitive, enhancing the gamers' UV light case.

Heat transfers rapidly out of GPU and reduces temperature faster.

Cool down the droom to overclock and run chip faster; provides more headroom to overclock and run faster.

Operates with lower noise level than original cooler.
Efficient transfer of heat outside of computer case
Cool air is drawn from both sides of the fan and hot air is forced out of the computer case. This ensures effective cooling when there is another card in front blocking the fan inlet.
Silent and durable fan
Significantly reduce noise level and extend service life
Isolated heatsinks
memory and GPU heatsinks are completely separated, preventing any heat transfer from GPU to memory. Memory heatsink is actively cooled by air stream from main cooler.
CHIPSET FEATURES
320 stream processing units
128-bit memory interface
24x custom filter anti-aliasing (CFAA) and high performance anisotropic filtering
High-speed 128-bit HDR (High Dynamic Range) rendering
Built-in Native HDMI with 7.1 surround sound support
Dynamic geometry acceleration
Game physics processing capability
HIS PRODUCTS ADVANTAGE
HIS delivers Faster, Cooler, Quieter plus the best quality product!
Professional customer service and technical support
ACCESSORIES
SOFTWARE BUNDLED
| | |
| --- | --- |
| Model Name | HIS HD 4670 IceQ (Full HD 1080p) HDMI 1GB (128bit) DDR3 Dual Link-DVI / VGA / HDMI (HDCP) AGP (RoHS) |
| Chipset | Radeon HD 4600 AGP Series |
| ASIC | RadeonTM HD 4670 GPU |
| Pixel Pipelines | 320 stream processing units* (Unified) |
| Vertex Engines | 320 stream processing units* (Unified) |
| Manu. Process (Micron) | 55nm |
| Transistor | 514 million |
| Memory Size (MB) | 1024 |
| Memory Type | DDR3 |
| RAMDAC (MHz) | 400 |
| Engine CLK (MHz) | 750 |
| Memory CLK (MHz) | 1746 |
| Memory Interface (bit) | 128 |
| Power Supply Requirement | 400 Watt or greater power supply |
| Max. Resolution | 1920x1200 (single-link DVI) or 2560x1600 (dual-link DVI) |
| Bus Interface | AGP 8X/4X |
| VGA | Yes |
| 2nd VGA | No |
| DVI | Yes |
| 2nd DVI | No |
| TV-out | No |
| HDMI | Yes |
| Video-in | No |
| TV Tuner | No |
| FM Tuner | No |
ATI Radeon™ HD 4600 System Requirements

AGP based PC is required with one AGP lane graphics slot available on the motherboard
400 Watt or greater power supply is recommended
1GB of system memory recommended
Installation software requires CD-ROM drive
DVD playback requires DVD drive
Blu-ray™ playback requires Blu-ray drive and full 1080p display requires a 1080p-capable monitor
For more information, please visit the following link:
http://ati.amd.com/products/radeonhd4600/specs.html

HIS IceQ Cooling Technology
HIS IceQ innovative design doubles the strength to its predecessor. It ensures lower operating environment for GPU and memory, extends headroom for overclocking and provides longer service life. HIS IceQ can cool down the core temperature dramatically; lower than original cooler. Heat transfers rapidly out of GPU and reduces temperature faster. Also it is sensitive to ultra violate light with special UV effect.
Break-through Efficiency
Save time and energy with the ATI RadeonTM HD 4600 Series graphics cards which provide optimal performance, break-through efficiency and stability. These graphics cards are a great option for business users who engage in video conferencing or use creative applications that require fast frame rates and exceptional visual quality. With platform-independent intelligent power management, the ATI RadeonTM HD 4600 Series graphics cards deliver the power needed to blaze through even the most intense applications while intuitively conserving energy at idle or when demand is low. Expand your visual workspace with multi- monitor support for advanced multi- tasking to help you get more done in less time.
HDMI Video and Audio
A system with an ATI RadeonTM HD 4600 Series graphics card can help enhance the HD entertainment experience by providing a seamless connection to an HDTV or home theater system. With built-in 7.1 surround sound audio (AC3 / DTS ), the new GPUs and graphics cards support single cable connection directly to a compatible HDTV, projector or receiver. This single cable carries both the HD video and 8 channel audio for a clean, high definition connection. These options give consumers more options and flexibility when connecting their PCs to monitors or home theaters for maximum enjoyment of HD content. The new GPU also supports xvYCC color which can display a wider range of color when connected to capable HDTVs.
Microsoft® DirectX® 10.1 support
ATI RadeonTM HD 4600 series GPUs offer full support for the new DirectX® 10 and DirectX® 10.1 API (Application Program Interface) from Microsoft; ready to meet the demanding needs of new, next generation games. DirectX 10 is the first totally new DirectX in the last 4 years and brings important graphics innovations that can be used by game developers for the next generation of games. DirectX 10 introduces crisp, never-beforeseen detail-rich images, visual effects and game dynamics capable of accurately simulating the real world. No matter which ATI RadeonTM HD 4600 Series GPU you choose, you can be assured that games will look as good as the developer intended!
Microsoft® Windows Vista®
ATI RadeonTM HD 4600 series graphics cards provide support for the Microsoft® Windows Vista® operating system and take advantage of the Windows AeroTM graphical interface. You will be amazed by the dazzling 3D visual effects and have peace of mind that the ATI CatalystTM software and drivers are designed and thoroughly tested to ensure full compatibility and stability to help keep you up and running. All these new technologies and features make the ATI Radeon HD 4600 series of GPUs the ideal solution for ultimate HD gaming and HD video entertainment with the Windows Vista OS.
May 15th, 2015 at 12:01 pm
By khatawut
July 1th, 2013 at 10:02 am
By downkill
Great. Saya mengupgrade di ulang tahun saya, dibandingkan dengan vga saya yang dulu x850xt AGP. Radeon HD 4670 Icep ini membuat saya senang dan game terasa lebih ringan,
Thanks HIS
March 14th, 2012 at 12:24 pm
By Rebecca Reed
I bought this card 3 months ago for an old Pentium 4 HT system. And WOW! I can play all the newest games out there on an old pent 4 system. Playing Mass Effect 3 at the moment! Most people tell me its impossible to run these games on my system, but with this card i can. My old dell xps lives on. amazing.
March 11th, 2012 at 09:24 am
By zeek1379
I bought this card in hope it would keep me from junking this PC. AlienWare Aurora. The old card was 7800gt AGP 256mb.
Now I play Skyrim and Crysis 2 at blistering 60fps at the lest!
One important thought if your CPU is slow you will benefit less from this card! Though this card is still the best out there for any AGP!
Thanks HIS for my HIS HD4670 1GB AGP.
This card has sealed my fate, HIS for me from now on!
Just wishing there was a 5670 or a 6670 agp..
February 15th, 2012 at 12:40 am
By Rick Williams
Mine should arrive today. From reading the comments I think I made the right choice. Can't wait to play my games on settings other than low!
September 19th, 2011 at 08:25 am
By Patrick Pynn
Just brilliant...if you have an old computer with an A Socket motherboard (or any "oldish" motherboard) with an AGP 8x slot, I recommend buying this graphics card. It runs many of the latest games quite well and increases the speed immensely. With an amazing cooling feature to boot, IceQ ones again overclocks it to its prime potential and allows for a nice overall cooling feature for your computer in general. So I recommending dusting off that old computer and try giving this a whirl, you'll be in for a ride.
Note for IceQ: Keep up the good work, I'll be looking for another revamped older (or newer) graphics card to try out.
April 27th, 2011 at 11:38 am
By Kristoffer Murray
This is the best replacement for an older AGP machine. Ive seen a major increase in frames on mutiple games. The HIS 4670 IceQ Stays cool, it's silent, it's fast. Im glad to see that HIS is still making AGP cards and that they can keep up with alot of the new stuff. If you need a new AGP card for your computer. THIS IS IT!
June 22th, 2010 at 01:13 pm
By Bayu Teguh Setiawan
As of 2010, few new motherboards feature AGP slots, but in average not feature integrated graphics. So, for heavy display purposes i buy this HIS HD 4670 Agp. Good performance, better quality. HIS lived AGP!
June 22th, 2010 at 12:50 pm
By Bagus Danang Putrayana
My agp card was slow; I'm buying wrong card. So I bought this card for old agp replacement. It's design was perfect, IceQ technology. And I surprised with this card performance!! COOL MAN!!
Keep forward HIS!
June 18th, 2010 at 09:19 am
By Muhammad Takhtis
This is an extremely graphic card!!! For 5 years I'm searching for perfect AGP-Slot VGA card, and I bought 1 HIS HD 4670 AGP for playing Command Conquer Generals game. And, how real the picture is! Thousand thanks for you, HIS! I hope you still produce this card. I want to buy more!
May 1th, 2010 at 11:27 pm
By Houssam el Atrache
I bought this card to squeeze as much juice out of my Pentium 4 as I can, and I was not disappointed, but so impressed! I've added a couple of years to my old machine! I'm able to run games that are designed for Core 2 Duos and higher! I've had this card for several weeks, and I'm so please and grateful to HIS for adding revolutionary technology to older hardware!
Just one note to customers who purchase this card using Win XP:
1- As a first step, download and save the most current driver for this card from the HIS website, BUT DON'T INSTALL IT YET!
2- Remove your old graphic drivers.
3- Restart.
4- Shut down.
5- Replace your old card with your new one.
6- Start up.
7- Install saved downloaded drivers from step 1, and you're done!
If I'm not mistaken, to my best of knowledge, this is the fastest, most revolutionary and most optional "AGP" graphics card yet, since AGP cards are no longer manufactured and have been replaced by PCIe.
Great card! Thanks HIS!
March 1th, 2010 at 08:35 am
By Syntality
I bought this card hoping to get some more life out of my 7 year old computer, i looked for many PCI cards but none were good at all. Finally i started looking for AGP cards and found this, went ahead and bit my lip and bought this card hoping it would make a great difference. Well i've been using it for 5 days now, and i will say this, it has surpassed my hopes and has probably given my computer 2-3 more years of use. I can now play the games i've had sitting in boxes for awhile now. Great card, works great with my 1080p monitor. I love it, i will purchase from HIS again. BTW, for those people who want "quiet" cards, this card is VERY VERY silent.
February 27th, 2010 at 04:35 am
By Fernando Souza Andrade
Fantástica, ela tem um desempenho muito superior que uma placa de 256Bit, recomendo para gamers e casemods, recomendo!!
February 5th, 2010 at 06:52 pm
By Pouade
Bonjour.
Enfin une exellente carte graphique en AGP!!
Le port AGP est dédié aux graphisme contrairemenaux ports Pci et Pcie etexpress.
Cete carte est tres rapide. Un exellent travail.
February 1th, 2010 at 01:26 am
By samir
after reading reviews....i will def. buy this card.
plz make it available in india.
kindly contact to my mail.i would like to buy this card.
January 5th, 2010 at 11:38 pm
By philippe Mellet
Great card really, I am totally happy with this upgrade.
January 5th, 2010 at 11:28 pm
By philippe Mellet
Great card really, I am totally happy with this upgrade.
January 3th, 2010 at 08:53 pm
By Norbert Schreiber
Great Graphic-Card! It works absolutly perfect with my CPU (AMD AthlonXP 3200+) and my Board (A7N8X-E deluxe nForce2Ultra400)! Games are running very good and fast. Most I like the HDMI-output because I use my PC also for TV-Recording! Many congratulations to HIS for this perfect, cool and noiseless Card!
January 1th, 2010 at 03:29 pm
By Hopeful
Yes the 4670 agp 1M is cool but a super overclocked version or simply a 4770 agp would have been a better mainstream choice. For agp users the cards would have sold like hotcakes.
Im using a msi 8x agp motherboard 2gig of xms 800ddr2 4-4-4-12 latency & a athalon 6400x2. A killer agp card would be great. Something to upgrade from a 7950gt apg would be very welcomed.
December 26th, 2009 at 08:21 pm
By redwolfs
nice Graphic card, my PC intel P4 2.4Ghz, 1GB Visipro DDR1 3200, with Asus p4vxmx, so great to playing game like Crysis, Call of Duty 4, Far Cry etc... two thumbs up for HIS 4670 AGP...
Post your comment
Comments will be reviewed by the editors before being published, mainly to ensure that spam and irrelevant material are not published . Please feel free to comment!
We strongly encourage you to use your real name. E-mail addresses are required in case we need to follow up with you directly. We won't publish your e-mail address unless you request.






HIS has won over 1700 awards with AMD graphic solutions from major media worldwide.
" It's cool, cool looking, and quiet......If you've got an old AGP card in your system, then the HIS HD 4670 IceQ Native HDMI 1GB (128bit) DDR3 AGP is certainly worth updating too. " - Review by Viperlair

" HIS 4670 IceQ AGP is perfect fro turing your old gaming machine into a media machine that can still handle modern games......The perfect way to turn that old PC into a games-capable HTPC " - PC PowerPlay SmartBuy Award

Cofnij