HIS 7970 Fan 3GB GDDR5 PCI-E DVI/HDMI/2xMini DP (Free DP to DVI Eyefinity Adapter)

Kod Produktu
H797F3G2M
Kod EAN
4895139006780
Chłodzenie
Fan
GPU
7970
Taktowanie Rdzenia
925 MHz
Taktowanie Pamięci
5500 MHz
Wielkość Pamięci
3072 MB
Typ Pamięci
GDDR5
Szyna Danych Pamięci
384 bit
Typ Złącza
PCI Express 3.0 x16
Rozmiar Karty
12.6 x 4.2 x 29.3 cm
Rozmiar Pudełka
36.5 x 19.6 x 9.9 cm
Waga Pudełka
1.8 kg
Availability
New Design, New Experiences
PCI-e 3.0
Support Armed with the latest PCI-e 3.0 bus design maximizes performance by delivering double bandwidth per lane of PCI-e 2.x. Paired the card with the latest platforms and get the ultimate performance!
More Graphics, Less Power
The new architecture of the card gets more usable processing power for your money, enabling better frame rates in the latest games at high resolutions. In addition, with AMD PowerPlay™ & AMD PowerTune technologies, you can optimize the balance between performance and power consumption of your system by adjusting the engine clock during runtime of the card. Manage the power and keep your wallet loaded!
See More, Win More!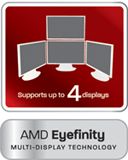 The card is capable to turn your computer into a super gaming machine. Enjoy the latest 3D games with stunning graphics and effects that your enemies cannot match!

Connect your screens with the specially bundled Active Mini DisplayPort to SL-DVI Dongle and you are ready to get an immersive experience with AMD Eyefinity "2.0"!

Expand your game across up to 4 displays while your opponents have one monitor. Along with all-new support for stereo 3D, universal bezel compensation and brand new display configurations, take the unfair advantage over your opponent and win more with the surround sight!
Game Better & Faster
Game Better & Faster
With full Microsoft DirectX® 11.1 support, the card is ready for next generation DirectX games. Equipped with AMD HD3D technology, you can enjoy a stereo 3D experience in the latest 3D games. The card also offers up to 2x faster tessellation and faster DirectCompute over earlier cards. Gamers will be pleased to enjoy the life-like graphics!

Sounds Better
Output protected high bit rate 7.1 channel surround sound over HDMI with no additional cables required, heightening the sense of reality!
See Better, Enjoy Better
The HIS 7970 3GB supports 30" LCD monitor and any large size TV up to 80" feature with 16:9 ratio in amazing 4096 by 2160 resolution. Up-scaling your computer into a multimedia center with the biggest display!

Enjoy HD Beauty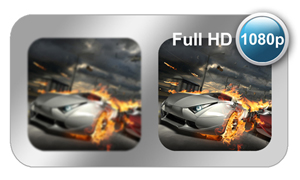 With Full HD 1080p support, the card delivers high quality 1920X1080 graphics, enabling seamless full-screen video playback. See HD, hear HD and feel HD - Enjoy the beautiful graphics now with the card!

Enjoy Copy Protected Movies
The card is HDCP complaint, enabling users to play copy-protected content, such as commercial DVD movies.

Quad HD Ready
The market isn't ready for 4k video, but the card is! With full support for 3GHz HDMI 1.4a and DisplayPort 1.2 HBR2, you are set for quad HD with the card!
HIS PRODUCTS ADVANTAGE
HIS delivers Faster, Cooler, Quieter plus the best quality product!
Professional customer service and technical support
What's in the box
HIS Graphics Card
CrossFireX

TM

Bridge
Active Mini DisplayPort to DVI Cable
HDMI to DVI Cable
DVI-VGA Adapter
Weight Lifter
Install CD with Multilingual User Guide
Quick Installation Guide
HIS Power Up Label
Model Name
HIS 7970 Fan 3GB GDDR5 PCI-E DVI/HDMI/2xMini DP (Free DP to DVI Eyefinity Adapter)
Chipset
Radeon HD 7970 PCIe Series
ASIC
RadeonTM HD 7970 GPU
Manu. Process (Micron)
28nm
Memory Size (MB)
3072
Memory Type
GDDR5
Engine CLK (MHz)
925MHz
Memory CLK (Gbps)
5.5Gbps
Memory Interface (bit)
384
Power Supply Requirement

500 Watt or greater power

Max. Resolution
4096x2160 per display (DisplayPort 1.2)
2560x1600 per display (Dual-link DVI)
2048x1536 per display (VGA)
Bus Interface
PCI Express x16
Mini Display Port
Yes
HDMI
Yes
DVI
Dual-link DVI-I
VGA
No
HD 7970 System Requirement
PCI Express ® based PC is required with one X16 lane graphics slot with 2 slots space available on the motherboard
500W (or greater) power supply with one 150W 8-pin PCI Express power connector and one 75W 6-pin PCI Express power connector recommended
Certified power supplies are recommended. Refer to http://ati.amd.com/certifiedPSU for a list of Certified products
Minimum 1GB of system memory
Installation software requires CD-ROM drive, a keyboard, a mouse, and a display
DVD playback requires DVD drive
Blu-ray™ playback requires Blu-ray drive

February 28th, 2012 at 06:17 am
By Denys
Hi guys!
Waiting for your 7970 IceQ Turbo edition!
February 25th, 2012 at 08:51 am
By Mal4k1as
this graphic card is amazing and extremely fast. RADICAL!!!!
January 19th, 2012 at 04:16 pm
By mrg
please call me mrg thank you. please send to my e-mail the best and new of your products,motherboards,graphics and every thing in fact i love your products, those are great. if i can't buy, but can learn and offer to my friend and other. thank you
January 19th, 2012 at 04:26 am
By WAQAR ALI
hi guys i am 1st who inform u that the HIS legendary AMD RADEON HD7970 28nm 3GB 384bit and Quad hd technological has successfully launched. it is very good news for ever. this card is error free affordable price better heat dissipation excellent cooling design thanks to AMD, ATI and HIS for this product line. extreme level tessellation definition and superb 3d performance. i compared it with Nvidia high end single GPU GF580 in every way and the champ is HD6970. Don't be a fool by Nvidia, just buy his HD7970 card with confidence Recommended by Ex Gamer WAQAR ALI, the HD 6970 is fastest GPU on earth. EX VWD
January 16th, 2012 at 03:02 am
By WAQAR ALI
fastest single G P U card on earth unbelievable and phenomenal performance
January 16th, 2012 at 02:48 am
By WAQAR ALI
Fastest single GPU on earth, seems like never before perfect for graphic acceleration. so be a real intense gamer like KillinGMasTeR
January 12th, 2012 at 02:04 am
By hassan
we waiting for pro cooling
thanks our dear company
January 11th, 2012 at 09:43 pm
By shahid
Amazing Card, eagerly waiting for it in Pakistan, !
January 11th, 2012 at 03:22 am
By Leo
was looking for a version of ICEQ of 7970~~
please make it ASAP~~~
Post your comment
Comments will be reviewed by the editors before being published, mainly to ensure that spam and irrelevant material are not published . Please feel free to comment!
We strongly encourage you to use your real name. E-mail addresses are required in case we need to follow up with you directly. We won't publish your e-mail address unless you request.






HIS has won over 1700 awards with AMD graphic solutions from major media worldwide.

iXBT.com "Отличная поставка"
"The HD 7970 is a complete game-changer. It blows almost every other card on the market completely out of the water. With a price about $150 lower than the HD 6990 and the same as the GTX 580, the HIS HD 7970 is definitely worth consideration if you want a bleeding edge gaming system." Overclockers.com "Approved"
"The HIS 7970 does have some interesting features of its own. Partially Resident Textures is a better way of using textures, and involves turning them into smaller pieces so that it's easier for a game to ignore any bits of the texture that won't be seen (and so, therefore, don't have to be drawn, wasting valuable resources)." PC Format / Techradar

"Finally, AMD gives us here a card that is well designed and perfectly suited to the greed of some current 3D engines." Comprtoir-hardware Silver Award

"IT does everything the reference card can but it also has the backing of HIS's quality warranty, support and RMA service." Vortez "Gold Award"

"If you want to get in on the HD 7970 action, you really can't go wrong with the HIS offering today." TweakTown "Editor's Choice Award"


"HIS offer a box which gives our card good protection during shipping and inside is a decent, thorough bundle which adds value to the overall product." Hardware Heaven "Recommended"

"When it works it's unbeatable. It's just not as 'plug and play' as we've come to expect from modern hardware. For this reason we're awarding it our OC3D Performance Award. As a single card the HIS Digital is as good, and Gold worthy, as any other reference HD7970." Overclocker3D "Gold Award"

Cofnij