HIS 6790 Fan 1GB GDDR5 PCI-E HDMI/2xDVI/DP

Cod produs
H679F1GD
Cod EAN
4895139005844
Cooler
Fan
GPU
6790
Core Clock
840 MHz
Memory Clock
4200 MHz
Marime memorie
1024 MB
Tip memorie
GDDR5
Interfata memorie
256 bit
Interfata
PCI Express x16 (PCI Express 2.1)
Dimensiune placa grafica
12.7 x 4.2 x 23 cm
Dimensiune cutie
32.31 x 9.45 x 18.45 cm
Availability
AMD Eyefinity technology: Gaming and productivity on up to three simultaneous displays
Expand your favorite games across multiple displays with AMD Eyefinity technology for an incredibly expansive field of view.
Get the freedom and flexibility to upgrade. This modular solution enables you to add more displays when you need them.
Get more done. Put your productivity into overdrive and let multiple displays put all the information you need right before your eyes.
Don't choose between play and work. Let multiple displays help you enjoy games, movies and the web at the same time.

* ATI Eyefinity technology requires one panel with a DisplayPort connector to enable the third display. DisplayPort to DVI dongle is required for panel with DVI connector
AMD's second-gen DirectX® 11-ready graphics: Stunningly realistic gaming
Be ready for the hottest DirectX® 11-capable games with AMD's second generation graphics with full DirectX® 11 support.
With lightning-fast frame rates and ultrarealistic effects, the AMD Radeon™ HD 6790 enables an amazing HD gaming experience.
With advanced tessellation performance, AMD Radeon™ HD 6790 graphics are designed to enable the realistic detail that you deserve.
AMD EyeSpeed technology: Fast applications and incredible video
Get more from your system than great gaming. AMD EyeSpeed visual acceleration technology taps into the power of the AMD Radeon™ HD 6790 for fast applications and pristine video.
Accelerate the most demanding applications with AMD EyeSpeed technology. Do more,faster.
Maximize your online and Blu-ray video experiences with a new level of smooth visual quality with AMD EyeSpeed visual acceleration technology.
Put out Stunning Visual and Unrivaled Audio Experience with HD3D Technology
Stereo 3D display/glasses support
Stereo 3D gaming
Blu-ray™ 3D support
3rd Party stereo 3D middleware software support
Launching with AMD Radeon™ 6790 Series GPUs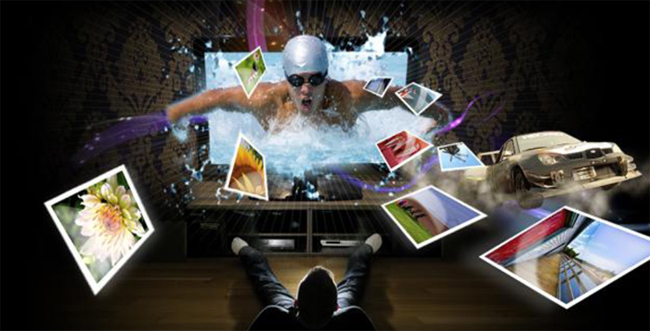 HD 6790 Features and Benefits
Features

Benefits

Microsoft® DirectX® 11 Support

Get intense gaming performance and unrivalled image quality with stunning 3D visual effects, realistic lighting and lifelike imagery, driven by AMD's second-generation DirectX® 11-capable graphics.

AMD Eyefinity Technology

Enjoy the ultimate immersive gaming experience with innovative "surround sight" multi-display capabilities

AMD HD3D Technology

Experience high quality, full stereoscopic 3D viewing of:
• Blu-ray 3D movies
• Games
• Video/Movies
• Photos

AMD EyeSpeed technology

Accelerate the most demanding applications for improved performance

Advanced GDDR5 Memory Technology

Delivers more speed and higher bandwidth

AMD CrossFireX™ Technology

Increase your gaming performance with AMD CrossFireX™ Technology

2nd Generation TeraScale Engine

Provides increased processing power for the latest games and accelerated applications

40 nm Process Technology

Provides enhanced processor performance while using less power and better transistor efficiency than previous generation technology

Accelerated Video Transcoding

Helps improve video transcoding performance.

Display Flexibility

More flexibility with maximum connectivity for the latest display technologies

HDMI 1.4a

Helps ensure you get the full Blu-ray and PVR experience from your PC

Dolby® TrueHD and DTSHD Master Audio Support

Get a fully immersive high-definition audio experience with the latest Blu-ray movies

AMD PowerPlay™ Technology

Power draw scales according to activity so when GPU activity is low, the power draw is minimal.
Enhanced Unified Video Decoder (UVD) 3
Watch the hottest Blu-ray movies, online video and other HD content beyond 1080p with low power and low noise with GPU acceleration and enhanced Unified Video Decoder (UVD) 3 features.

Enhanced Internet Browser Applications

A fast and smooth browsing experience with enhanced image rendering, response, and media playback
The Power of HIS
The Excalibur, once owned by the invincible King Arthur, denotes the leader's mighty kingship with its mystical power and fascinating beauty and brings him triumph battle after battle.
Now HIS raises this sword again for gamers.
The Legend reborn... Prepare to conquer the gaming world!
HIS PRODUCTS ADVANTAGE
HIS delivers Faster, Cooler, Quieter plus the best quality product!
Professional customer service and technical support
What's in the box
HIS Graphics Card
CrossFireXTM Bridge
Power Cable 2x 4pin in, 6 pin out
DVI-VGA Adapter
Install CD with Multilingual User Guide
Quick Installation Guide
HIS Power Up Label
| | |
| --- | --- |
| Model Name | HIS 6790 Fan 1GB GDDR5 PCI-E HDMI/2xDVI/DP |
| Chipset | Radeon HD 6790 PCIe Series |
| ASIC | RadeonTM HD 6790 GPU |
| Manu. Process (Micron) | 40nm |
| Memory Size (MB) | 1024 |
| Memory Type | GDDR5 |
| Engine CLK (MHz) | 840Mhz |
| Memory CLK (Gbps) | 4.2Gbps |
| Memory Interface (bit) | 256 |
| Power Supply Requirement | 500 Watt or greater power |
| Max. Resolution | 2560*1600 |
| Bus Interface | PCI Express x16 |
| Display Port | Yes |
| HDMI | Yes |
| DVI | Upper Single-link DVI-D + Bottom Dual-link DVI-I |
| VGA | No |
HD 6790 System Requirement
PCI Express ® based PC is required with one X16 lane graphics slot with 2 slots space available on the motherboard
500 Watt or greater power supply recommended
Certified power supplies are recommended. Refer to http://ati.amd.com/certifiedPSU for a list of Certified products
Minimum 1GB of system memory
Installation software requires CD-ROM or DVD-ROM drive, a keyboard, a mouse, and a display
DVD playback requires DVD drive and a DVD
Blu-ray™ playback requires Blu-ray drive and a Blu-ray disc
For an AMD CrossFireX™ system, a second AMD Radeon™ HD 6700 Series Graphics card, an AMD CrossFireX™ Ready motherboard and one AMD CrossFireX™ Bridge Interconnect cable is required

May 23th, 2014 at 10:09 am
By Smithe826
I'm truly enjoying the design and layout of your blog. It's a very easy on the eyes which makes it much more pleasant for me to come here and visit more often. Did you hire out a developer to create your theme? Outstanding work! kedbkbkddabfkcdd
August 7th, 2012 at 05:41 am
By Christian
I have used this georgeous GPU for a little more than a month and its still runnig games smooth like butter. Even better you can crossfire it with 6850 or 6870. Its a real bang for the buck.
I Have Phenom IIX4 965 and 4 GB DDR3 2000mhz on Asus Crosshair IV Extreme o will have a gaming rig for many years. HIS you rocks ¡¡¡¡
April 27th, 2012 at 12:21 am
By Chad Luciano
I bought this card to complete an imexpensive gaming rig and I'll say this, this card is rock solid. I did a lot of research before purchasing this card, I read every blog, forum, store comment out there. My rig is a GA-78LMT-S2P motherboard ($49.00), FX-4100 AMD quadcore chip overclocked to 4.45GHz no additional cooling($109.00) 8Gb 1333MHz RAM ($40.00), Cooler Master GX-750 PSU unit 750 watts ($70.00) HIS Radeon HD 6790 GDDR5 256bit and voila there you go, under $300.00 and you have an amazing gaming rig. This by far exceeded my expectations. Kicks the crap out of XBOX 360 and PS3 by a landslide. Get this card and you wont regret it. I hope this helps.
April 14th, 2012 at 01:42 am
By syed shahrukh
i puscheasd his 6790 this very ultra model card and good gaming performace in future up coming games i will sugestion to specification on your sytem to good performance his 6790 core2 quad 660 8mb cache 2.4 1066fsb 4gb ram suitable mother borad . i will shower best performance.
January 21th, 2012 at 12:20 am
By yahya santosa
HD 6790 in cross fire mode same as HD 6970, with lesser price.
HIS HD 6790 crossfire is worth choice.
December 6th, 2011 at 03:24 am
By Taha Khan
HIS is best Ultra high gaming specially HIS 6790 HD
November 15th, 2011 at 07:32 pm
By Awais Sarwar
i purchased HIS HD 6790 after using my previous HIS purchase of HD 5750. This card offers very good value in terms of price and performance. Runs cool and can handle anything within its capability easily. Good packing, solid performance and nicely built graphics card. I'm gonna stick to HIS in future too :)
Post your comment
Comments will be reviewed by the editors before being published, mainly to ensure that spam and irrelevant material are not published . Please feel free to comment!
We strongly encourage you to use your real name. E-mail addresses are required in case we need to follow up with you directly. We won't publish your e-mail address unless you request.

Inapoi