HIS Multi-View+Sound Adapter

Product Code: HMVS-MAC-PC

EAN Code: 4895139006629

Expanding your visual horizon in style
The Multi-View+Sound is a device which enables connection to second display device to a computer using USB 3.0 port. With this convention design, it can connect up to 6 display devices to a computer without installing extra video cards. Once the driver has been installed, the USB attached monitor will be enabled immediately. No function key on the adapter and there is no need to reboot the operating system after unplugging the USB adapter. System performance is an important issue when using multiple monitors. Another benefit of this adapter is that it occupies little computer resource; ensuring users get quality display without comprising computer performance.
Superfast USB 3.0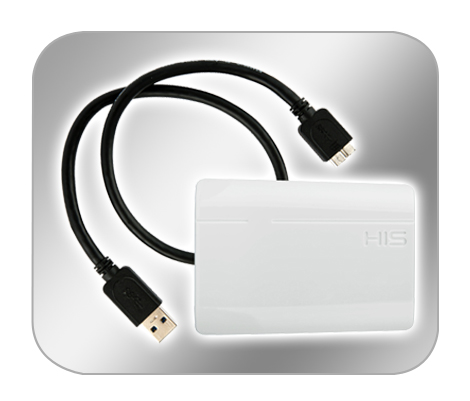 Support USB 3.0 & 2.0
USB 3.0 has transmission speed of up to 5 Gbit/s, significantly reduces the time required for data transmission while at the same time reduces power consumption. Being 10 times faster than USB 2.0, HIS Multi-View+Sound overcomes limited bandwidth for displaying on larger screen exists on USB2.0 interface. USB 3.0 is backward compatible with USB 2.0 so your old device will be able to communicate with the device without worries.
See More, Enjoy More!
The HIS Multi-View+Sound supports 27" LCD monitor and any large size TV up to 80" feature with 16:9 ratio in amazing 2048 by 1152 resolution, up-scaling your computer into a multimedia center with the biggest display!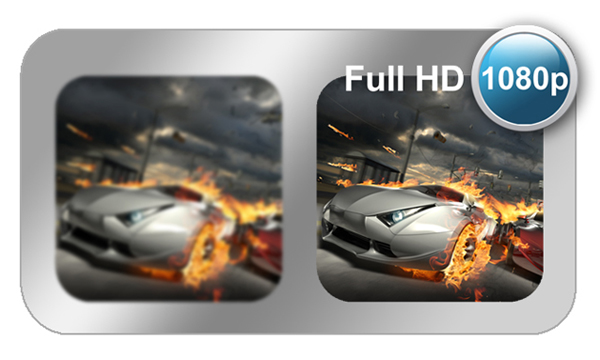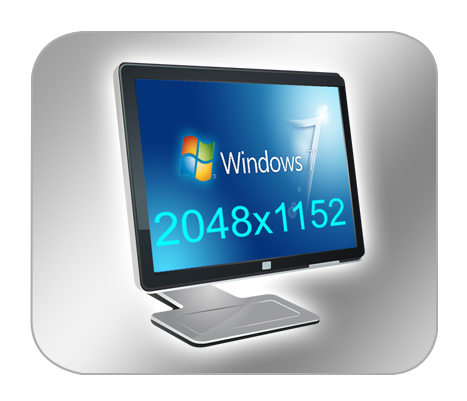 Maximum Resolution: 2048x1152
Enjoy HD Beauty
With Full HD 1080p support & HDMI Output, the device delivers high quality HDMI 1920X1080 graphics PLUS sound, enabling seamless full-screen video playback over USB. See HD, hear HD and feel HD - Enjoy the beautiful and crystal clear sound beyond the superb graphics now!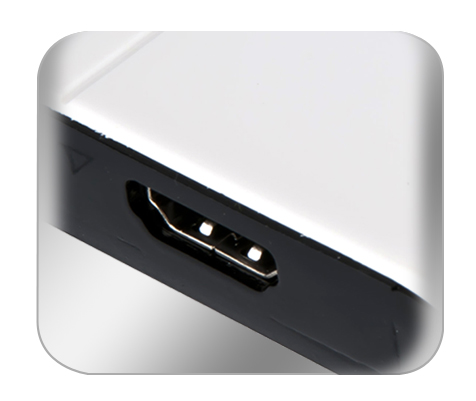 HDMI Output
Enjoy Copy Protected Movies
HIS Multi-View+Sound is HDCP complaint, enabling users to play copy-protected content, such as commercial DVD movies through the adapter.
Game Better and Faster
The HIS Multi-View+Sound is also capable to turn your computer into an enthusiastic gaming machine, allowing users enjoy the latest 3D games with enhanced graphics and effects.

Game Better
Having Direct X 10 & 11 game support, HIS Multi-View+Sound is in line with the latest 3D games.

Game Faster
Gamers will be pleased with the ability to achieve up to 60 FPS in various games to enjoy the maximum realism!

Sounds Better
Supports both 2.1 and 5.1 channel audio, heightening the sense of reality!
View More, Work Better
When connecting a second display suddenly becomes ridiculously easy with HIS Multi-View+Sound, having one dedicated screen just for twitter or facebook and a second for outlook is not a dream anymore. Simply connect any PC or notebook with USB 3.0/2.0 to an external monitor anytime and your notebook becomes a dual display workstation!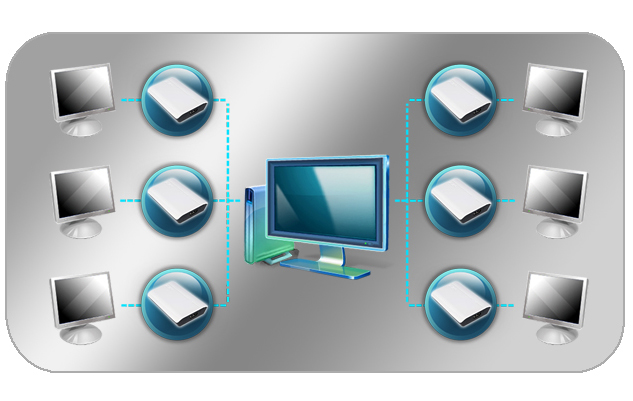 HIS Multi-View+Sound allows you connect up to 6 monitors, making it the ideal solution for all those who rely on having several applications visible simultaneously for extra productivity. Multi-tasking just got a lot simpler!

No matter you just want some extra screen area, watch HD movies with your computer or being an enthusiastic gamer, HIS Multi-View+Sound is your perfect companion.
Product Features
USB 3.0 Support: 10 times faster than 2.0
Backward Compatible with USB 2.0: User-friendly for all USB laptop or desktop
Support up to 6 Additional Displays: Enabling multi-tasking and increasing productivity
Full HD 1080p & HDMI Output: High quality image & sound, full-screen video playback
HDCP Compliant: Play copy-protected content commercial DVD
DirectX 10 & DirectX 11 Game Support: Allows latest 3D games to be played
Suggested monitor with 2048x1152 resolution support
Acer B273HU
Samsung 2342BWX
Dell SP2309W
Samsung 2343BWX
HIS Products Advantage
HIS delivers Faster, Cooler, Quieter plus the best quality product!
Professional customer service and technical support
What's in the box
Multi-View+Sound Adapter
USB Cable
Install CD
Quick Installation Guide
System Requirements
The minimum requirements for the PC are:
- With Single Core CPU at 1.2GHz or higher processor clock. Intel Pentium / Celeron family, or AMD K6 / Athlon / Duron family, or compatible processor
- 512MB memory
- At least one USB 3.0 port
- 30MB of available disk space
- Super VGA (800x600) or higher resolution monitor
Supported Operating Systems
- Windows XP SP2 (32-bit)
- Windows XP SP3 (32-bit)
- Windows Vista SP1 (32-bit and 64-bit)
- Windows Vista SP2 (32-bit and 64-bit)
- Windows 7 (32-bit and 64-bit)
Supported Game List
Age of Conan: Hyborian Adventures
Anno 1404
Assassin's Creed
Battlefield: Bad Company 2
BattleForge
BioShock
BioShock 2
Blue Mars
Call of Juarez
Civilization V
Company of Heroes
Company of Heroes: Opposing Fronts
Company of Heroes: Tales of Valor
Cryostasis: Sleep of Reason
Crysis
Crysis Warhead
Devil May Cry 4
Dungeons & Dragons Online
Far Cry 2
Flight Simulator X
Fury
Gears of War
Global Agenda
Hamilton's Great Adventure
Hellgate: London
Homefront
IL-2 Sturmovik: Cliffs of Dover
James Cameron's Avatar: The Game
Just Cause 2
Lost Planet: Extreme Condition
Medal of Honor
Merchants of Brooklyn
Metro 2033
NecroVisioN
NecroVisioN: Lost Company
Order of War
Order of War: Challenge
PT Boats: Knights of the Sea
PT Boats: South Gambit
Red Faction: Armageddon
Red Faction: Guerrilla
Resident Evil 5
Shattered Horizon
S.T.A.L.K.E.R.: Clear Sky
S.T.A.L.K.E.R.: Call of Pripyat
Stormrise
The Lord of the Rings Online: Shadows of Angmar
Tom Clancy's H.A.W.X.
Total War: Shogun 2
Two Worlds II
Universe at War: Earth Assault
World in Conflict
June 2th, 2013 at 08:22 am
By Antonio Manuel Cardoso Martins
this product HIS Multi-View + Sound is compatible with windows 8 operating system (64-bit).
January 5th, 2013 at 10:48 am
By ENGE
The HDMI output makes this adaptor universally useful for both LED and TV monitors. HIS Digital has done it again with high performance products at a very reasonable cost. Just imagine you can play a downloaded movie directly from your laptop to the TV/Monitor even if the notebook computer does not have a HDMI output. There is no need to connect a separate 3.5mm cable to the earphone and separate VGA or RCA outputs. This adaptor is simply replacing all those audio/video cables. My notebook computer does not have USB3.0 ports. I plug the adaptor onto a USB2.0 port and a LED monitor, and it works the first time after I set up the advanced screen display options on my notebook. The displaying speed somehow is a bit sluggish (not a con but an expected performance with USB 2.0 ports). Not to be disappointed with this lack-luster performance, I bought a 2-port USB3.0 ExpressCard at $15 for my notebook. As soon as I plug the Multi-View adaptor to one of these USB3.0 ports, the external monitor suddenly comes alive with flashing displays. Connecting it to my Sony 46" TV, and I could enjoy a movie on big screen with big sound – digital sound! It is really worth the money to invest on this Multi-view video card adaptor with an HDMI output – because no more teeny sound on my 14" notebook computer screen. And I hope more offices will use this card on those desktop replacement notebooks for those second, or third, or fourth monitors.
March 8th, 2012 at 09:43 am
By Trevor Vuong
HIS USB 3 multiview video card + sound is awesome.
It's an inexpensive video card that you can use to extent your vision to the next level.
If you have PC, netbook, notebook... that you want more displays... here it is.
It's plug and play and you can pull it out and carry it with you in your pocket.
This is perfect for those PC boxes that you can't add any video card or no more PCEx Slot. Netbook that has only VGA external output or only has USB. You can also connect it to your latets TV via HDMI interface and get a up to full HD 1080p resolution and with sound too and it also works with other HIS graphic cards in CrossFireX mode
.
It's an inexpensiave, small device, extentability, small demand on power and you get up to 2048 x 1152. And you can connect up to 6 displays... and it's backward compatible with USB 2.0. Don't forget that it supports DirectX11 for latest 3D games too.
February 13th, 2012 at 07:35 am
By Klaus
I have tested this adapter on USB 3.0 and USB 2.0 ports with a Samsung Syncmaster 19" monitor and a Daytek 46" HDTV and this adapter worked flawlessly in every test i threw at it and the video quality and sound was superb, and this adapter works great in 1080p mode also.
Yet this adapter is small in size it is big in performance and is easy to setup and get started.
Note: This adapter has worked with 2 HIS 6870 HD graphics cards in CrossFireX mode
I think HIS has made a wonderful product in this adapter and for the price range it is well worth the money, so is you are looking to extend your desktop to help speed up your productivity then this adapter is for you and you will not be disappointed in the HIS Multi-View + Sound Adapter as it performs great.
January 26th, 2012 at 05:43 am
By Larry
I use the HIS Multi-View+Sound adapter to connect a second monitor to my older Dell Inspiron Laptop that only has USB 2.0 so that I can work with my grandson without him getting access to the keyboard. I had no problems loading the included drivers and it works flawlessly.
Post your comment
Comments will be reviewed by the editors before being published, mainly to ensure that spam and irrelevant material are not published . Please feel free to comment!
We strongly encourage you to use your real name. E-mail addresses are required in case we need to follow up with you directly. We won't publish your e-mail address unless you request.





HIS has won over 1700 awards with AMD graphic solutions from major media worldwide.

"Pros:

-Small
-sleek size
-Extremely easy setup
-USB interface
-Affordable option for limited output systems

"If you're on the go and want to add another monitor when you get home, then any of these adapters are an easy way to do it. You don't need a graphics upgrade, you simply need an available USB port. It doesn't get much easier than that."

Pureoverclock – Good Hardware Award


"Pros:
• Easy installation and configuration
• Compatible with nearly every monitor up to 2048x1152
• Reasonable price
• Good video and audio quality"

"The HIS Multi-View adapters are something unique on our market. We do not often see any similar products and we cannot really find any competition to HIS Multi-View at the moment. Here comes the Muliti-View adapter with a USB connector which solves all of the issues with the lack of additional video outputs. The installation and configuration was really simple. Flawless, "plug and play" configuration is for sure a big advantage especially when you are moving with the computer frequently. A quick, one-time driver installation lets you easily connect to additional displays on any other workplace. "

"The HIS Multi-View adapters are great devices that I can recommend to everyone who needs to connect additional displays to their computer but lacks the additional outputs or graphics card functionality. With the HIS Multi-View, everyone can take advantage of larger workspace without spending much money."
Funkykit - Recommended Award
"HIS Multi-View+sound Adapter поддерживает формат Full HD и шестиканальный звук, стандарты DirectX 10 и 11, технологию HDCP и до шести мониторов на одном ПК. Что же это все дает пользователю? А то, что теперь с настольного компьютера или ноутбука можно будет без потери качества выводить высококачественные звук и картинку фильма или игры практически на любое устройство отображения." журнал Железо

"The HIS adapter is a great solution to connecting multiple monitors to your PC or laptop when you don't have the graphics ports to do so." Artiss - 4-Star Rating

"For all other game types or activities, we haven't encountered any issues with the product. The HIS adapter does not need extra power through a separate cable and takes very little space on the table." Madshrimps.be "Recommended Value Product"

"The only real question is if you really need something as good as the Multi-View & Sound adapter or if your needs can be covered with the less powerful Multi-View II adapter released over a year ago. Personal preference aside however the ability to stream FullHD content and play games via USB 3.0 is quite impressive and because of that the Multi-View & Sound adapter by HIS has earned our Golden award." NiKKtech "Golden Award"

"The HIS Multi-View Adapter + Sound has really impressed me. The installation is easy, and the functionality is great. You can monitor all the parameters to adjust according to your wishes. With this adapter, you get not only a crystal-clear image, but also great audio quality!" Jarafi-Reviews "Gold Award"
"I recomend the HIS adapter for anyone with a laptop or all-in-one PC as their main machine who want to add a second or more monitors. Especially for those who do any kind of digital content creation or mild gaming. It's a great and easy way to increase your productivity and computing experience." Plugged In
"The Multi-View+Sound does exactly what it does. While it does not perform miracles, especially when connected via USB 2.0 but it is very useful in many bottleneck situations so you can replace the existing hardware later." Tom's Hardware

"With Multi-view+sound, HIS has created a product, which does what it's meant to, in a way so simple that anyone can use it. Simple, stylish and functional design." HwT.dk "Gold Award"

"If you need another monitor for your work computer but do not want to purchase a new video card the HIS multi-view+ sound is a great alternative. You can install up to 6 different adapters to really increase the amount of monitor real-estate that is available to you. While it can play games it is not an ideal solution, but it does however play video and sound flawlessly if you want to watch movies while using the adapter." FunkyKit "Recommended Product"
"HIS Digital continues to develop quality and innovative solutions at reasonable prices. The Multi-View+Sound is an extremely well built and solid piece of equipment for those looking to extend to multiple displays or TVs. Easy to install, easy to use and a great value" Digital Hippos
"The HIS Multi-View+Sound USB 3.0 adapter is a really neat device that fulfills a specific niche: adding additional monitors to an existing PC, and doing so without having to add large or expensive video cards. It also conveniently supports most expected multimedia capabilities that modern computing affords us." Christ Centered Gamer

"Overall this adapter does everything that HIS states it will do. The Drivers are simple and easy to install, the adapter is compact and lightweight which makes it very portable, both the audio and visual quality were satisfactory running at 1920x1080p for the video feed. The Adapter includes playback of DirectX 11 titles, as well as HDCP movies which saves us all a lot of headaches if you want to do like I did, and use the adapter for getting picture out to your living room television for movie playback or playing DX11 titles." Go!GamingGiant "Bang For Buck Award"

"The HIS Multi-View+Sound Adapter allows any computer system with a USB 2.0 or 3.0 port to add extra displays. It's as simple as connecting the device into the the computer's USB port and connecting the display(s). Up to 6 displays can be added to the same system. It supports 1080p and resolutions up to 2048x1152. Also, since it's HDMI it capable of video and 2.1/5.1 audio." 3D GameMan "100% Kickass"

Inapoi